The first version af OZFF Logger developed by OZ3FI was ready in the Spring 2016.
It´s very simple to use. Style like N1MM, CT etc.
The programming languages is MicroSoft Program C# and only for Windows 7 – 10. (Don´t try on XP).
The name is OZFF Logger, but can be used in any WWFF ref. around the Globe. All National programs FF are already added. You may also edit the Activating box if Your area are missing.
Note : At installation virus alert can come – This is not a virus, please ignore !!!
One more Note : If You get this error at installation
"Microsoft.ace.oledb.12.0 is not registered"
Please "Click for help"
The version 4.2 – A box for comments and a Call Search function add. Some bugs at manuel use (date) fixed. TNX to EA8CSB and G0RPA for feedback.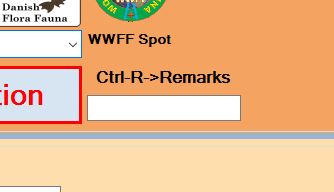 Use "Ctrl-R" for a comment – Use "Esc" for returning to the Call box.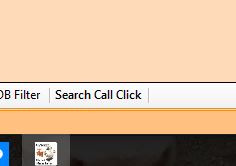 Click at the "Search Call" for finding a callsign in the log.
The version 4.1 – All WWFF references can be found now. 6M + 2M + 70CM + 23CM + FM are added to the dropdown lists. WWFF Cluster link are added. (TNX to G0RPA and EA8CSB for feedback. TNX to I5FLN for supporting with updated WWFF ref list).
After installation / updates, You may select default "National FF Program" (Can be changed at any time) : Next time You start the OZFF Logger, it will remember chosen Program.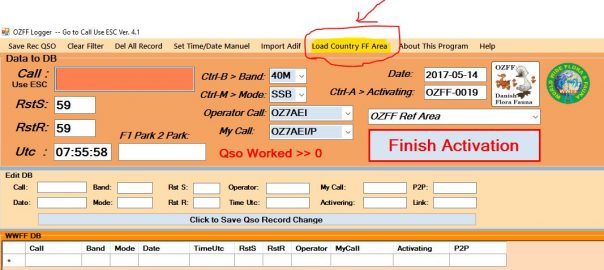 Click at "Load Country FF Area".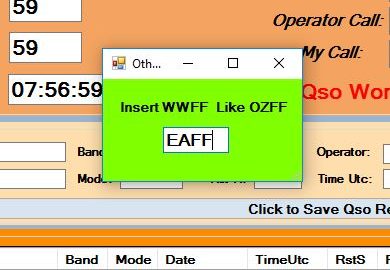 Type wanted National Program with keyboard.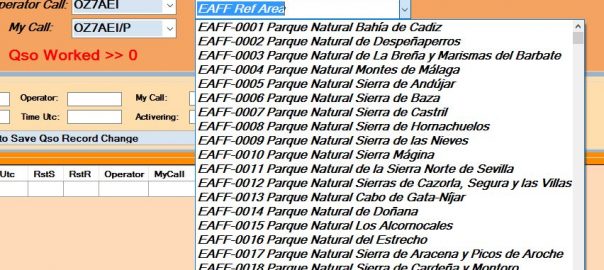 Select area.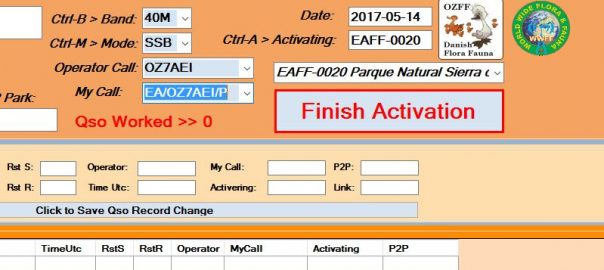 Select "Band", "Mode", "Operator" and "Station Call" (Note if Band or Mode is missing at dropdown, use the Keyboard).

If You can´t find the Reference at the dropdowns or just want quick to add area, just type at the "Activating box" We try to keep the OZFF Logger updated with new references – But not easy 🙂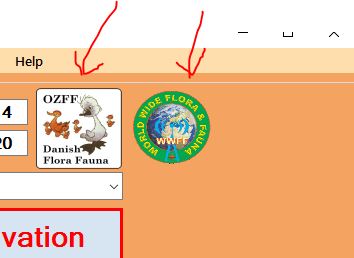 The OZFF is a link to this page.
The WWFF is a link to the WWFF Cluster.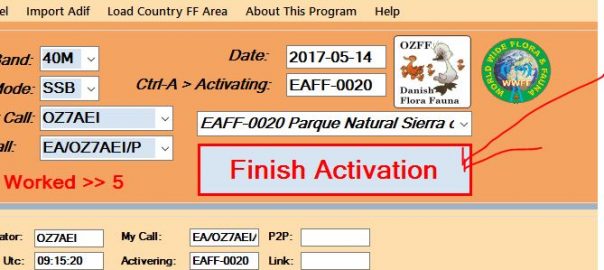 After Activation click "Finish Activation" and an ADIF file ready for upload will be created.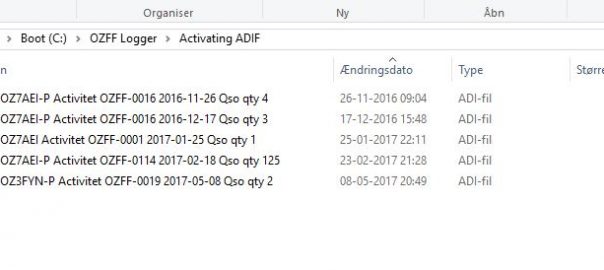 At the "C:\OZFF Logger\Activating ADIF" You may find the finished ADIF file.
At the " C:\OZFF Logger\ADIF Backup" You may find a back up of everything.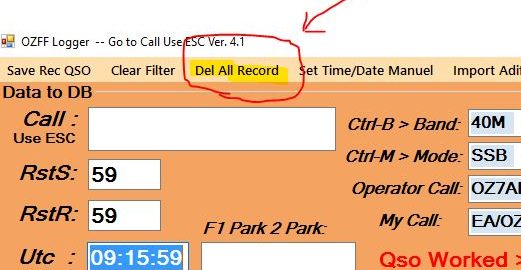 At the end click "Del All Record" – Please check the ADIF file before deleting all the log.
The version 4.0 – All WWFF refs updated + some color changed.
The version 3.9 – Version number added to the ADIF file. Up to date with WWFF references.
The version 3.8 – The program are more safty, space can´t be usen in the Call box, band, mode etc. At the operator box a callsign have to be used, not name of Op.
The version 3.7 – Use "F1" for shotcut to the "P2P" box and "ESC" for back to the "Call" box.
When You download, perhaps You will get some Virus alarms – Just ignore it, this Software is not a Virus.
Contact OZ3FI for any problems.
Please note : This Demo are not updated – Lots of changes after version 4.1.